Jackpot 4-D Barrels & 3 Other Game Events
Feb12, Feb 26, Mar 5, April 15, April 30 – 2017
Starts at 10:30 a.m. with time-only barrels
Events: Jackpot 4-D Barrels and 3 other game events
Downloadable flyer
Summer Horse Camp
Info Coming Soon! 
2017 Dates Coming Soon!
Fee: $75; Ages 6 and over
Downloadable flyer:
Coming Soon!
The Red Barn Arena in Long Beach, Wa concluded their 17th annual National Barrel Horse Association awards series. There were 6 races in the series starting in January and ending in April. Awards were given in the Open 1-D, 2-D, 3-D, 4-D and the Buckaroo divisions.
The Red Barn Arena would like to thank the following business's for their sponsorship. Champion Buckle Sponsors:  Oceanside Animal Clinic, Oman and Son, ASAP Business Solutions, Western World, All Washed Up Dog Grooming, and Long Beach Recycling  and Transfer Station. Other Sponsors; Guy Glenn Attorney,  Baileys Saw Shop, Active Enterprise,  Sid's Supermarket, Englund Marine, Dr. Jason Tynkilla DMD, Bell Buoy, The Hair of the Dog Salon, Jessie's Ilwaco Fish and Jack's Country Store.
2016 Open 4-D & Buckaroo Award Winners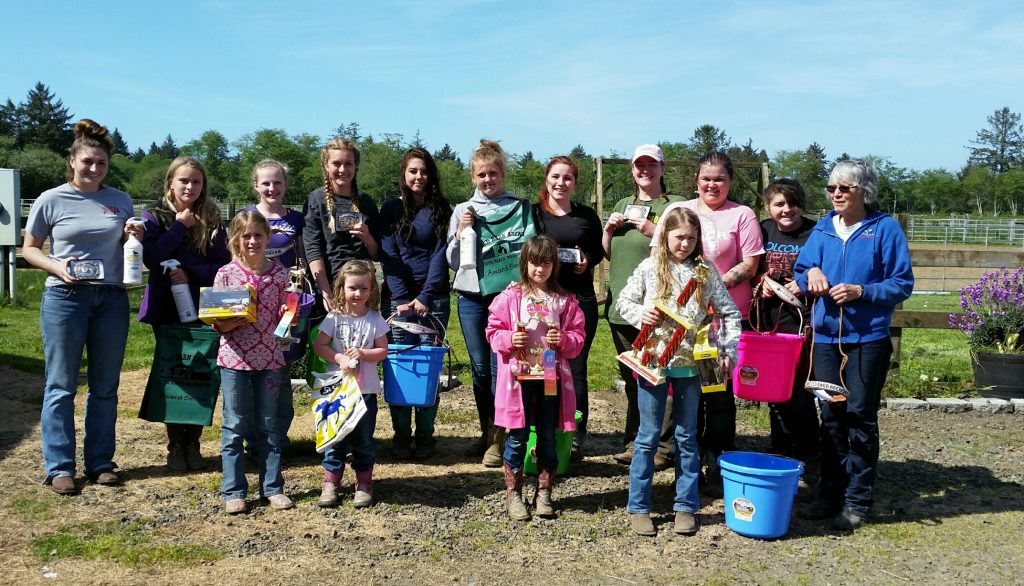 The Champions in each division were:  Open 1-D  Champion Wylie McHale,   2-D  Champion Tori Tobey, 3-D Champion Katie  Glasson  4-D Champion Becki Ellis. Other's placing were Cheri Baker, Allison Bonney, Brooke Morgan, Barry James, Kylie Legler, Laura Flanagan, Marilyn Carnahan, Brian Flanagan, Rachael Glasson and Gracie Barnett.  Buckaroos: Champion Madison Johnson,  Reserve Champion Abby Doan, others placings were Sophia Bittner, Cidney Morgan and Faith Wilson.
Halloween Party
Date TBA
Starts at 6:00 pm
Costumes on horseback, games, potluck