Jackpot 4-D Barrels & 3 Other Game Events
Feb12, Feb 26, Mar 5, April 15, April 30 – 2017
Starts at 10:30 a.m. with time-only barrels
Events: Jackpot 4-D Barrels and 3 other game events
Downloadable flyer
Summer Horse Camp
Info Coming Soon! 
2017 Dates Coming Soon!
Fee: $75; Ages 6 and over
Downloadable flyer:
Coming Soon!
2017 Open 4-D & Buckaroo Award Winners
The Red Barn Arena in Long Beach, Wa concluded their 18th annual National Barrel Horse Association awards series. There were 6 races in the series starting in January and ending in April. Awards were given in the Open 1-D, 2-D, 3-D, 4-D and the Buckaroo divisions.
The Red Barn Arena would like to thank the following businesses for their sponsorship. Oceanside Animal Clinic, Doggie in the Window, Peninsula Sanitation Service, Sids Super Market, Active Enterprises, America Family, Browing Timber Falling, Oman and Son Builders Supply, Guy Glenn Attorney, Dr. Jason Tynkila,Baileys Saw Shop, Bell Bouy, and McDonalds Restaurant.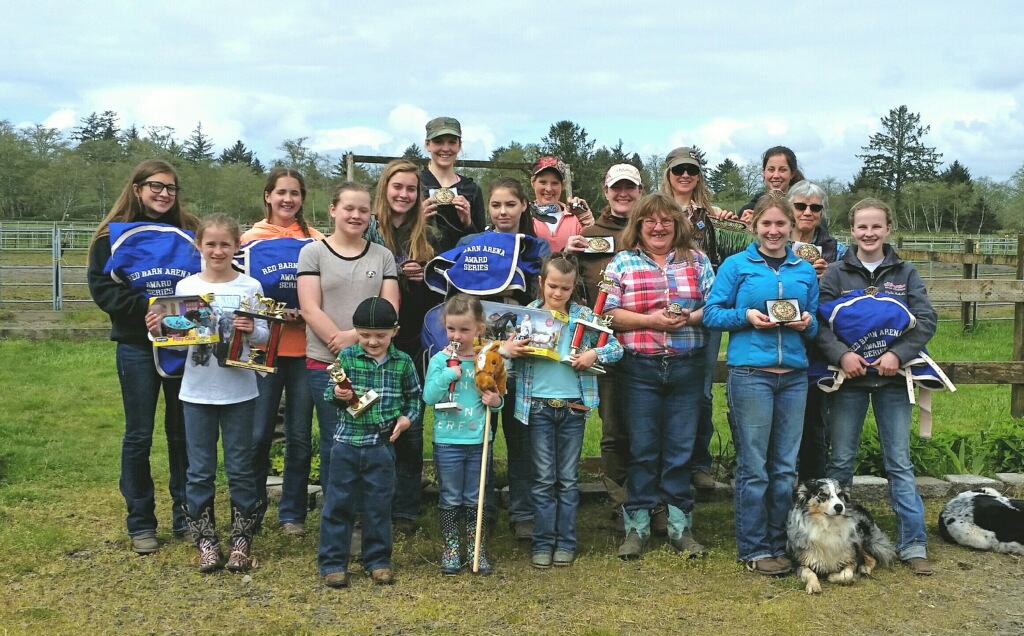 The Champions in each division were:  1-D Diane Carter, Reserve Champion Wylie McHale, 2-D Hannah Pilon,  Reserve Champion Beth Rowland, 3-D Champion Rachael Thomas, Reserve Champion Katie Glasson, 4-D Champion Marilyn Carnahan, Reserve Champion Becky Ellis. Others placing were Cheri Baker, Dominique Bittner, Brooke Morga, Marrin McDonnel, Raime Wright, Madalyn Yates, Melissa Huddleston and Madison Johnson. Buckaroo Division: Champion Abby Doan, Reserve Champion Sophia Bittner, 3rd place Colt Pilon and 4th Cydney Morgan.
Halloween Party
Date TBA
Starts at 6:00 pm
Costumes on horseback, games, potluck